Hardware Requirements: The PERCEPTION system uses the SAP SQL Anywhere database. For a multiuser system, a database server with the minimum requirements can be found here, SAP SQL Anywhere

PERCEPTION is an Enterprise Resource Planning (ERP) system designed to manage internal and external resources, including tangible assets, financial resources, materials, and human resources. Its purpose is to facilitate the flow of information between all business functions inside the boundaries of the organization and manage the connections to outside stakeholders. Built on a centralized database PERCEPTION consolidates all business operations into a uniform and enterprise-wide system environment.

PERCEPTION also is provides strong Earned Value Management (EVM) features for measuring project progress in an easy-to-use, objective manner. PERCEPTION 's EVM has the ability to combine measurements of scope, schedule, and cost in a single integrated system. When properly applied, EVM provides an early warning of performance problems. Additionally, EVM promises to improve the definition of project scope, prevent scope creep, communicate objective progress to stakeholders, and keep the project team focused on achieving progress."

SPAR's PERCEPTION system combines ERP & EVM to better plan, coordinate and manage the shipyard. Unlike other ERP and EVM systems, PERCEPTION was designed specifically for shipyards.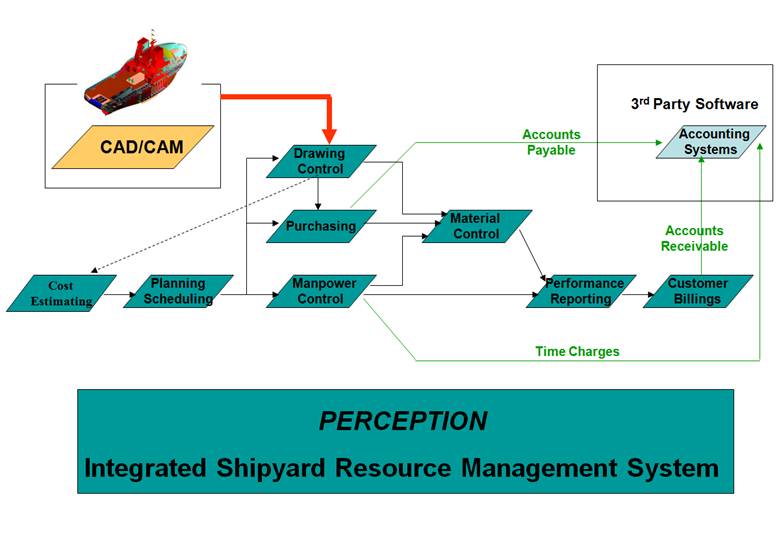 The building blocks of PERCEPTION's design are based on state-of-the-art client/server technology, flexibility and ease-of-use. This translates to decreased labor costs and increased productivity which yields to raising overall bottom line profits. PERCEPTION is a completely modular software package that is easily customized to specific shipyard requirements. It is capable of integrating all aspects of an operation from inception to completion and provides detailed material status reports, purchasing, plans, work instructions, budgets, cost analysis, schedule performance and more. Through its earned value management reporting, PERCEPTION is a powerful tool for detecting problems in the very early stages of a project. Its built-in alarm system warns as soon as 10% into a project when cost and schedules indicate potential problems.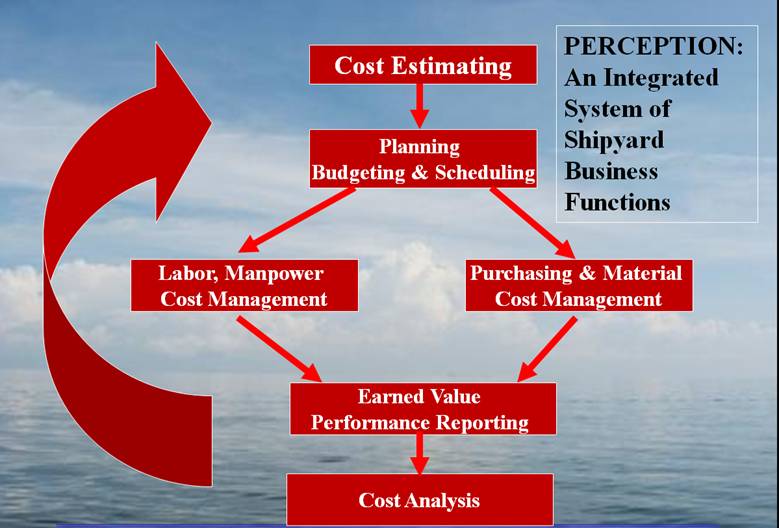 PERCEPTION software is designed to move businesses into the 21st century and beyond. It expands as a business grows and allows for the ultimate in comprehensive project management. In today's competitive business climate, PERCEPTION is more than a software solution; it is a key to success.
Click here for an overview of the PERCEPTION ERP/EVM system.
Click here for PERCEPTION special features for the shipyard.
Click here for using PERCEPTION's Earned Value Management (EVM) in the shipyard
Click here for examples of typical shipyard benefits obtained from PERCEPTION.
Click here for PERCEPTION addressing the needs for ship repair business.
Click here for samples of PERCEPTION Cash Flow Reporting capabilities.
Please contact us if you have any questions about our PERCEPTION software products and services.