MAT-PAC
accommodates the special needs of purchasing material directly for contracts and replenishing supplies of general stock. MAT-PAC effectively handles real-world purchasing problems such as use of foreign funds, federal/state sales taxes, and escalation clauses for long term contracts. With MAT-PAC you can engineer bills of material requirements and utilize full featured purchasing functions including requests for quotations and purchase order issues, printing and amending. The system tracks receiving and production issues, manages quantities, costs and multiple storage locations to support production pick lists.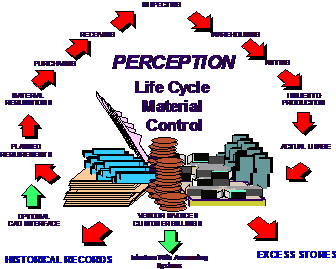 The system offers a full featured material control system from engineering to purchasing and production control. Click here to see the system.
Purchasing: MAT-PAC accommodates real-world purchasing problems, including use of foreign funds, federal and state sales taxes, freight, bulk purchases, blanket purchase orders, quick purchase orders, a library of standardized purchase order terms and conditions, required versus purchased units-of-issue and order quantities.
Material Cataloging: Shipyard material is managed by drawing, requisition, standard part, stock number, or manufactured part. It also is managed by contract work breakdown structure, ship product, and production work order.
Job Costing: The system produces a variety of material job cost reports (including integration with labor costs) and up to the minute schedule status to keep management informed at all times. These reports comply with government contract requirements.
Bar Code: Options are available for bar code delivery tagging, physical inventory, and issues to production.
Systems Integration: MAT-PAC can be integrated directly with the labor planning and management system, WORK-PAC. This allows production work orders to be developed with detailed material pallet requirements that have material order and location status. MAT-PAC also can be integrated directly with the project scheduling system, PERT-PAC. This enables purchasing deliveries to be coordinated with staged in-yard dates for production (by hull block or ship zone, for example). Automated scheduling takes into account special problems of long lead items and the demands on engineering to produce specifications in time to meet material ordering deadlines.
MAT-PAC can be easily interfaced or integrated with various financial software products, including general ledger, accounts payable systems, and accounts receivable, whether on the same computer platform or another.
Interfaces also are available for importing CAD data from ARL's ShipConstructor, AutoDesk's AutoCAD, REBIS' AutoPLANT, Microsoft's Excel, and Proteus Engineering's MAESTRO.
Please contact us if you have any questions about MAT-PAC or our other PERCEPTION software products and services.
Other PERCEPTION Software Modules
ESTI-MATE
The bidding and estimating module.
ESTI-MATE is the tool to develop accurate and complete contract cost and pricing proposals
.
PERT-PAC
The automated scheduling module. PERT-PAC develops integrated engineering, purchasing and production schedules.
WORK-PAC
The labor and manpower management module. WORK-PAC is the tool to improve management of work performance.
___________________